Getting a cake in one piece for an event can be really stressful. What if the cake falls over, or what if it melts?
Some people find themselves in the position of not having the right kind of box for their cake, or they might even have to have someone just hold the cake on their lap as they drive.
If you have to transport a cake in a car without a box, the best solution is a cake carrier. There are some other solutions that you can use, like foil and toothpicks.
If you have warm weather to deal with, you might also need to freeze the cake before you leave.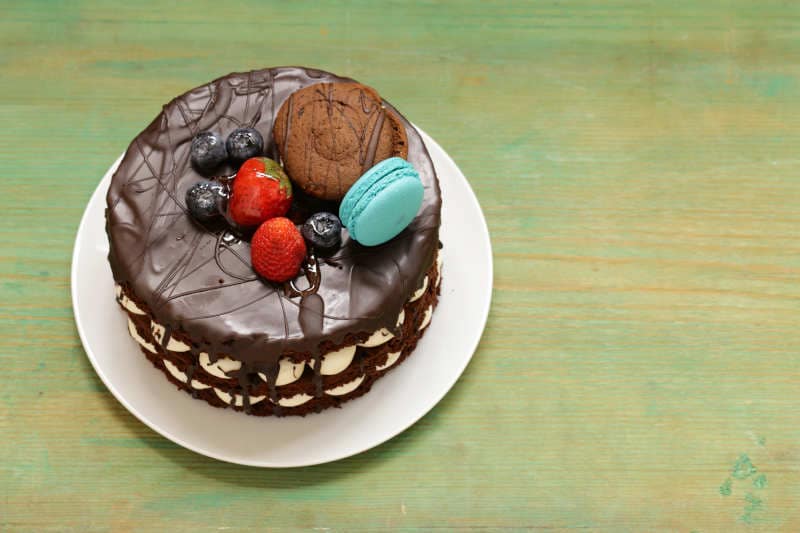 If you are ready to learn more about the way to transport a cake in a car without a box, you need to read on!
What Kinds of Things Can I Use to Carry a Cake?
If you have no box on hand and you do not own a cake carrier, you might be feeling like you need to panic.
However, there are some other options that you can use for your cake-carrying needs that are not that exotic.
The first solution that might work for your needs when you have a round cake to transport is to use a large, round plate.
This can work really well for some shapes and sizes of cake. You will find that a lot of round cakes fit quite neatly onto a plate and are very easy to support in this way.
Another solution is a square or round cooking pan. These might sometimes have too large of a lip on them, but if you have one that is relatively flat, like a cookie sheet, you should be in business.
These are often the best solution for the base of support for your cake if you do not have a box.
Some people also use large Tupperware, but this will necessitate that you do not frost your cake before you head out.
There are always going to be difficulties with frosting and decorations being impacted by containers that are not made for this job, so be aware of this risk.
What Can I Do to Protect the Cake?
You might have found the right base for the cake, but how do you keep the frosting from melting or things from falling onto the cake as you are driving?
This is actually fairly easy to resolve, and you might be surprised at just how simple this problem can be to fix.
You will need some toothpicks, and you will want foil on hand, although plastic wrap can work in a pinch. The toothpicks will need to be placed strategically on the cake so as not to cause damage to the decorations.
If you have already decorated your cake, you might need to be careful about where you place the toothpicks.
When you stretch the foil or plastic wrap over the toothpicks, leave some slack so that the toothpicks are not pulled out or pushed over.
You want to make a shelter or a tent for the cake, not cause damage to it. This is one of the best solutions to use if your cake has not been decorated yet.
You will have a much easier time keeping the foil or plastic off the cake if you are not trying to look out for frosting or trying to make toothpicks stay upright in frosting.
You should also consider freezing the cake. This will keep it from being impacted by heat and will prevent the melting of the toppings and frosting.
You might not be able to freeze all sizes and shapes of cake, but making your cake cold can allow you to carry it much more readily when you do not have access to a proper cake carrier.
When you freeze your cake, you might also be able to choose to assemble the cake upon arrival at the event.
This will help to make it easy to carry your cake and prevent damage that might be caused while you are transporting it.
A Cake Carrier is Always the Best Solution
If you have a cake carrier, you will always want to use this option. This will protect your cake from being damaged in many ways, and you can keep the sun off your cake while you are driving and while it is waiting to be served.
Cake carriers are the best way to move many different sizes and shapes of cake as well.
If you have to use these tips and tricks for moving a cake in a bind, you should plan to pick up a cake carrier as soon as possible.
You will have a much better experience transporting a cake with a carrier, and you will be so glad that you picked up this kitchen tool for your cake delivery needs!
Transporting a Cake Without a Carrier Can be Easy
If you don't have a quality cake carrier or a box on hand, the tips and tricks in this article will help you to get your cake to the party in one piece.
Remember that you can freeze the cake if you need to and take the time to plan a way to carry it safely with a cookie sheet or some other kind of carrying solution.
Keeping your cake out of the sun while you drive is a good idea as well, and you should consider assembling your cake upon arrival if you would rather not worry about it falling over while you are driving.
Carrying cakes from one place to another can be really challenging, but you can make a temporary solution work if you plan in advance.
Taking the time to cover the cake and pick the right kind of base for your carrying needs can make a big difference in your success.
If you have to move a cake without a carrier, you should be able to do so without any issues using these tips and tricks.
Brianna is a self-published author with a passion for sharing her knowledge and expertise on a variety of topics with people who are looking to find the perfect items for their needs. She loves making sure that the right kind of informative content is available to people looking for the right information. She is an avid horseback rider and reader when she is not writing.
Follow her on Facebook or Personal Blog.