Plastic cutting boards are sanitary until they start developing cracks from continuous knife use.
All things that come in contact with our food may be potential sources of contamination. And, the risk of contamination raises the risk of foodborne diseases.
Cutting boards are no exception to this rule. So, it's important to choose the right cutting board for optimal food safety. Plastic is considered sanitary because it's easy to clean, it's dishwasher-safe and doesn't have pores.
But, it's prone to developing cracks and grooves that are the ideal surface for bacteria to thrive.
Wood is a more complex material for sanitization and maintenance; however, it generally offers a higher level of toughness and self-healing properties that reduce the risk of cross-contamination.
Does this mean that a plastic cutting board isn't the most sanitary choice out there?-Let's find out together!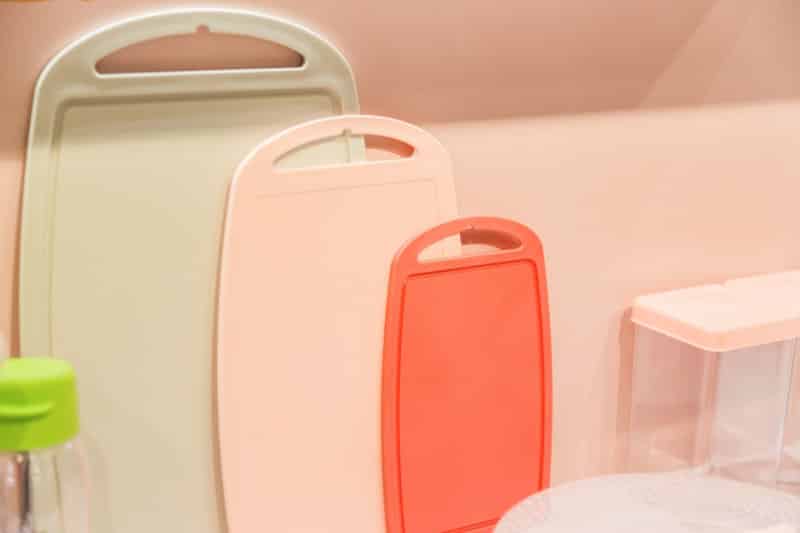 How Sanitary Is a Plastic Cutting Board?
As long as it's sanitized properly, a plastic cutting board is perfectly safe for use with food. Cutting boards are often used during the process of food preparation and serving.
Still, it's important to pay attention to the sanitization of the board. Namely, when we prepare raw meat or veggies, they can leave certain bacteria behind. Not cleaning and disinfecting the board enough after use could contribute to cross-contamination.
With plastic cutting boards, unlike wooden ones which aren't dishwasher-safe, sanitization is easily done. They're dishwasher-safe and the hot water temperature helps sanitize them.
But, even if you don't have a dishwasher, you can still sanitize your plastic cutting boards and ensure they're free of contaminants.
After using your plastic cutting board, rinse it off well. Use dish soap and warm water and scrub it well. Make sure you get into any cracks or grooves if any.
The final step is sanitization. You can choose between several products.
One of them is a mixture of one tablespoon of bleach and a gallon of water. Always sanitize the sponge or brush you've used to scrub the board, especially after raw meat preparation.
Proper drying also matters. Place it on a rack where the airflow is optimal. Considering bacteria require moisture for growth, you don't want your board to remain moist for a long period of time.
Another great tip to prevent unpleasant odors on the cutting board is to scrub them with a mixture of salt, baking soda, and water.
Combine a teaspoon of salt, a teaspoon of baking soda, and a teaspoon of water. Scrub the board with the paste. It will not just help deodorize it, but also remove stains from white plastic cutting boards.
Plastic vs. Wood: Which One Is More Sanitary?
Wood is considered superior in terms of sanitation. According to studies done in Europe, this is one of the best materials for use in the food industry.
Wood is naturally porous and possesses self-healing properties. This prevents the bacteria and contaminants from multiplying and spreading.
On the other hand, plastic may be sanitary in the first few years of use; however, as time goes by and the board is continuously used with knives, it will develop cracks and indentations.
Considering plastic isn't natural and doesn't possess self-healing abilities as wood does, it may become the ideal environment for bacteria and other contaminants. If you keep using this board, the indentations will only get worse.
This increases the risk of cross-contamination. With this in mind, it's important to know when to replace your old plastic cutting board with a new one. And, if possible, use several cutting boards for different foods.
For example, one for meat and fish and another one for fresh produce.
When It's the Right Time to Replace My Plastic Cutting Board?
The more scars a plastic board has, the harder for cleaning it becomes.
The FDA notes that excessive scorches and scratches on cutting surfaces can contribute to cross-contamination.
Namely, the pathogens transfer to the food and vice versa. This food is consumed by us and we can develop food-borne diseases.
And, some of the knives you use can cut even deeper grooves in the board that is designed to be less damaging on blades.
If we take into account that plastic isn't as self-healing as wood, we need to replace it with a new one at a certain point.
Substitute the board when scrubbing and sanitizing are no longer enough. The board already has very deep grooves from regular use and the unpleasant odors remain even after sanitization. And, no amount of washing or disinfection is enough to clean it.
There are also other options you can consider like repurposing or reconditioning the board.
Which Is the Best Cutting Board in Terms of Sanitation?
In terms of sanitation and hygiene, wood is the top choice. The hardwoods like maple are considered premium for resistance to bacteria. Namely, hardwoods have fine grains.
The capillary action of these grains pulls down the liquid and traps the pathogen.
These bacteria are then destroyed in the process of drying after the cleaning. However, these types of woods, as the name itself says, are harder and may be tougher on knives.
On the other hand, soft types of wood such as cypress may be less likely to dull knives; but, they're less sanitary. Namely, their grains are larger.
As a result, the wood can split apart much easier and create indentations where bacteria can grow. Plastic is also a good choice when looking for a sanitary board, although it's not as optimal as wood.
Plastic is non-porous and dishwasher-safe. This eases cleaning and sanitization. However, plastic cutting boards become a hygiene problem when they develop too many knife marks.
These are perfect for pathogens to hide and thrive.
Final Thoughts
Plastic cutting boards are sanitary until they're no longer. Namely, plastic cutting boards are awesome and every kitchen should have at least one.
They're sturdy, affordable, and dishwasher-safe. But, considering they don't have self-healing abilities as wood does, they'll eventually develop cracks from all that knife use.
And, these indentations can't be closed. Therefore, it's always a smart option to replace worn-out cutting boards and use different ones for different types of foods.
This will maximize hygiene and prevent cross-contamination, even when the board has already developed some marks. But, once the board can't be repurposed or reconditioned, it's time for its replacement!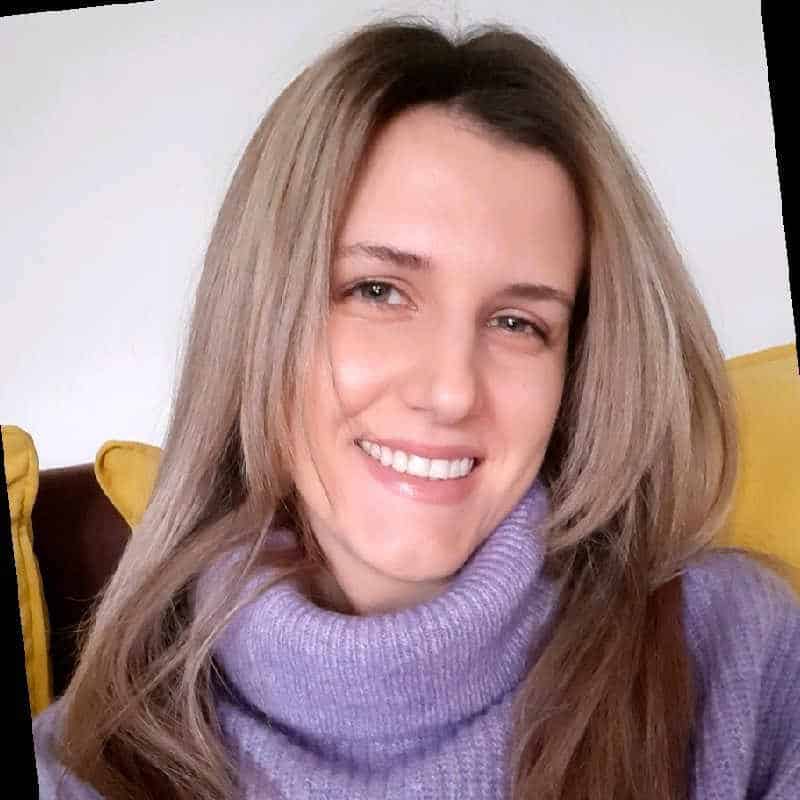 This is Kristina, a passionate content writer, copywriter, and bookworm. Always dedicated to providing informative and accurate product reviews and info articles for enjoyable shopping. In her free time, she loves spending time in nature and with animals and doing yoga.