A bread box is an essential kitchen appliance for any enthusiastic baker. It keeps homemade bread, buns, muffins, pastries, pies, and other baked foodstuffs fresh until the time you wish to consume the delights.
Ever wonder how to keep that freshly baked goodness just as delightful as when it came out of the oven?
That's where the humble bread box comes into play. Let's take a journey into the world of bread boxes, where classic meets practical in the heart of your kitchen.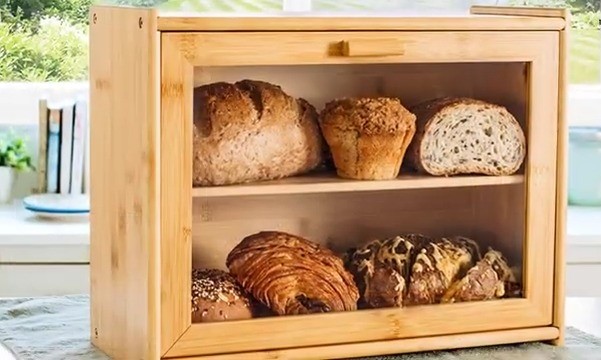 The Role of Bread Boxes
Alright, so why are bread boxes a necessary tool in the kitchen? Well, picture this: warm, crusty bread straight from the bakery.
You want to savor that deliciousness, right? A bread box is like a cozy home for your loaf, keeping it soft on the inside and crispy on the outside. Plus, it's a time-tested way to cut down on food waste – no more sad, stale slices!
Types of Bread Boxes
1. Wooden Bread Boxes
Think rustic charm. Wood bread boxes bring a warm, homey vibe to your kitchen. They're great at regulating moisture and keeping your bread just right. Just watch out for crumbs – wood can be a bit of a crumb magnet!
2. Stainless Steel Bread Boxes
If your kitchen is all about that contemporary look, stainless steel is the way to go. Clean lines and easy maintenance – what's not to love? Stainless steel is tough, and it's a breeze to wipe down. No fuss, no muss.
3. Vintage and Retro-Inspired Bread Boxes
Channel your inner vintage enthusiast with a retro-inspired bread box. It's like bringing a piece of the past into your modern kitchen. They look old-school, but these boxes are designed for the demands of today. Best of both worlds!
Which is the Best Construction Material for Bread Boxes?
The majority of the bread holders are designed from bamboo wood or stainless steel. Each of these construction materials has its unique benefits and shortcomings. So, the best material will depend on your unique taste.
Bamboo wood is light, and it has a vintage charm that many homeowners cannot resist. Moreover, bamboo is eco-friendly, non-toxic, and food-safe. On the downside, this wood can absorb odors, and it can warp if exposed to direct sunlight and or soaked in water. It is not ideal for busy kitchens.
Stainless steel is used to make heavy-duty bread boxes. This material boasts a brilliant mirror finish that can complement your kitchen's aesthetics and match seamlessly with other stainless steel appliances in your kitchen. It is non-corrosive, rust-resistant, and easy to clean. On the downside, it is quite heavy, and it can easily dent.
Besides stainless steel and wood, some manufacturers use plastic and ceramic to make bread storage bins. While plastic is durable, it may contain some harmful components that can contaminate your baked food.
On the other hand, ceramic breaks easily if it falls accidentally. Given that, ceramic bread holders wouldn't be an ideal fit for homeowners who want a unit that can bear abuse in a busy kitchen.
Which Lid Design is Best for the Kitchen?
While many bread holders are designed to fit on your kitchen countertop, pantry, or shelves, not every lid design would be suitable for your space. For instance, those with a roll-top or a pull-down lid would be great for cramped shelves, pantry, or kitchen countertops.
On the contrary, those bread boxes with lids that open upwards like Juvale bread boxes are designed to fit on spacious countertops. You cannot place them on shelves, pantries, and or kitchen counters with limited space.
If you love multipurpose kitchenware, go for those bread boxes with detachable wooden lids. The lid will serve as a chopping board for your bread, fruits, vegetables, meat, seafood, and any other foodstuff. The multi-purpose design will save the dollars you would have spent buying a chopping board separately.
What Size Should I Purchase?
Size is another key aspect to think about when looking for a bread storage bin. As a rule, you should look around for a bread box that can hold enough loaves of bread for your whole family.
Furthermore, the size of your breadbasket will depend on the storage space available on your countertop or kitchen shelves. If you have enough space, go for a generously sized bread basket.
On the other hand, if your kitchen is too overcrowded, a small unit would be ideal. It will take up minimal countertop space, and leave you with a spare room to lodge your pans, pots, and other kitchen accessories.
How much do Bread Boxes Cost?
The cost of bread boxes differs depending on their size and construction material. Large-sized bread boxes made of heavy-duty steel are quite more expensive than their counterparts made of wood and plastic.
Despite the high price, stainless steel bread boxes are rust-resistant, non-corrosive, and can endure heavy use and abuse for a prolonged period. Buy them if you want an investment that will serve you and your family for many years.
Bamboo bread boxes are quite cheap since the wood is readily available in abundance. Regardless of the low cost, bamboo bread holders can serve you for a sensible number of years provided that you don't soak them in water or expose them to direct sunlight.
Which Bread Box Style is Great for the Kitchen?
Whether you love the old-world charm or a contemporary design, stores have an ideal bread box for you. If you want to give your kitchen a traditional, timeless appeal, go for bamboo bread boxes.
Homeowners, who wish to add a contemporary charm to their kitchen, can shop around for bread boxes made from powder-coated stainless steel. These types often come in a variety of colors to let you get one that looks great in your kitchen.
Is it Necessary to Buy a Bread Box?
While bread boxes seem like a vital accessory to your kitchen, it isn't a necessity for every homeowner. So, who should buy this kitchenware? It is great for foodies who love making homemade bread, cakes, muffins, doughnuts, and other baked foods that are free of preservatives.
A bread box will preserve the baked delights till the time you wish to consume them. It is an excellent alternative to keeping your baked foodstuff in plastic paper wraps, airtight containers, or even in a freezer.
There would be no need to invest in a bread basket just in case you consume your baked foodstuff immediately after they are ready, or you love buying ready-made bread from stores. Such loaves of bread have enough preservatives to keep your bread fresh for a while.
How can I avoid Buying Substandard Bread Boxes?
There are several ways to avoid buying inferior bread boxes. First, before you move to place your order, take ample time to read reviews from customers who have tried the bread box you are eyeing.
As a rule of thumb, buy those bread boxes with positive reviews. In most cases, such high-rated bread baskets will live up to their marketing promise. Avoid all bread boxes with negative reviews, lest you want to be the next dissatisfied customer.
Secondly, buy units made by reputable companies if you want to avoid inferior bread storage boxes that cannot stand the test of time. Many respectable manufacturers like Home-it, Juvale, ELEVER, PremiumPresents, HomeKoko, and Brabantia will do anything to keep their customers contented.
Maintaining and Cleaning Your Bread Box
Now that you've got a bread box, you want to keep it in tip-top shape, right?
General care and upkeep: Treat your bread box like a good friend – with care. Regular wipe-downs and a little TLC go a long way.
Tips for preventing mold and odors: Proper ventilation is your secret weapon against unwanted guests (we're looking at you, mold and odors).
Cleaning routines for optimal hygiene: Whether it's a quick wipe or a trip to the dishwasher (if it's dishwasher-safe), keeping your bread box clean ensures a happy and healthy kitchen.
Recognizing when it's time to replace or upgrade: If your bread box starts showing signs of wear and tear, don't be afraid to upgrade. A fresh box for your fresh bread!
Final Thoughts
Having the bread box in your kitchen is an ideal way to keep your bread and other baked foodstuffs fresh and crunchy for a sensible number of days. The container has a lid that keeps your foodstuff away from germs, and pests.
The journey through the world of bread boxes reveals their timeless charm and practical benefits. Whether opting for classic wood or sleek stainless steel, these kitchen companions reduce food waste and declutter countertops.
Choosing the right bread box is a personal quest, and with proper care, it becomes a statement piece in your culinary space. So, here's to a fresher, more organized kitchen!
Happy baking!
Brianna is a self-published author with a passion for sharing her knowledge and expertise on a variety of topics with people who are looking to find the perfect items for their needs. She loves making sure that the right kind of informative content is available to people looking for the right information. She is an avid horseback rider and reader when she is not writing.
Follow her on Facebook or Personal Blog.