Sponges and scrubbing pads are vital cleaning accessories. But, if you don't dry and store them properly, they'll form a hotbed for dangerous bacteria, get stinky, or feel excessively slimy to the touch.
The good news? Purchase the kitchen sponge holder, and use it to dry and organize your sponges, scrubbing pads, and other sink accessories.
So, buckle up, and let's dive into the world of kitchen sponge holders in a way that's as easy as whipping up your favorite recipe!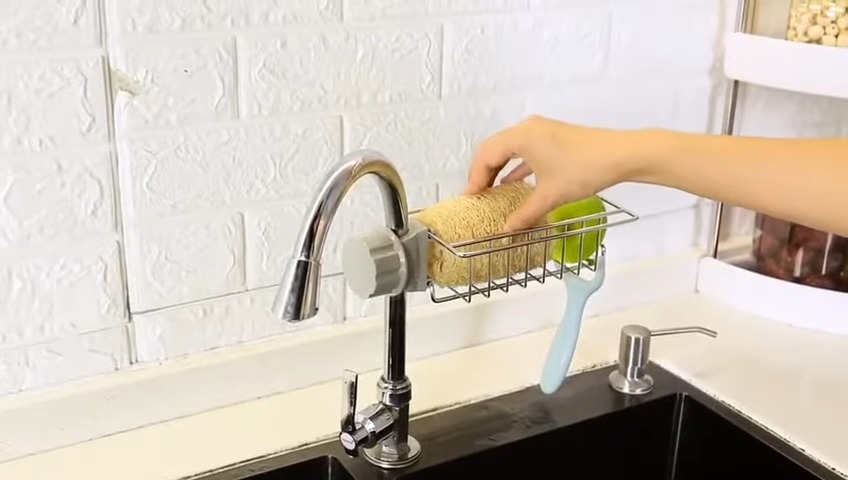 Sponge Holder: What is it Made From?
Manufacturers construct sponge holders from stainless steel, ABS, ceramic, or plastic. While some of these materials are obviously more durable than others, each has its unique specifications that you ought to consider before buying. Following is an overview of the benefits and downsides of each.
Ceramic
Ceramic kitchen sponge holders have first-rate resistance to stains, corrosive chemicals, and scratches. Many manufacturers use ceramic to make sink sponge holders with a vintage, farmhouse, timeless appeal. On the flip side, ceramic can shatter if it falls from heights.
Stainless Steel and Aluminum
Do you want a sink caddy that you can keep forever? If you do, invest in one made from stainless steel or aluminum. These two construction materials have superb resistance to corrosion, impact, abrasion, and other deterioration forms.
However, kitchen sponge holders made from stainless steel or aluminum tend to be more costly than their ceramic, ABS, or plastic rivals.
ABS
ABS kitchen sponge holders have incomparable resistance to weather elements, corrosive chemicals, abrasion, and impact. In the bargain, ABS offers superior structural strength, and it is light in weight.
However, with time, ABS may accumulate horrid stains.
Plastic
Though less durable than stainless steel, aluminum, ABS, and ceramic, plastic has good resistance to impact, corrosion, and weather elements. Many plastic sponge holders are less expensive.
Does Size Matter when Looking for the Best Sponge Caddy?
Like any other kitchen appliance, size matters a lot when looking for the best sponge holder for the kitchen sink. As a rule of thumb, you should always look for a big or small unit to fit in the space available around your sink.
As well, size determines the size of a kitchen sponge holder. For example, large-size kitchen sponge holders can hold several sponges, scrubbing pads, brushes, bar soap, and other sink accessories at a time. Many small size sponge holders can only hold one sponge.
Why do I need a Kitchen Sponge Holder?
If you have thought that a kitchen sink caddy was solely designed to hold your sponge, scrubbing pad, and other sink accessories, you've been wrong all along. This kitchen accessory has lots of other benefits. Here are some that should inspire you to get one soon.
It Accelerates Sponge's Drying Process.
Many kitchen sponge holders have an open design to let your sponges drain water, aerate, and dry within a short time. Those with a closed design have multiple drainage holes for that purpose. Thus, your sponge cannot get slimy or accumulate a disagreeable odor simply because it took too long to dry.
It Keeps Your Kitchen Organized.
Keeping your sponges, scrubbing pads, scrubbing brushes, and other sink accessories is challenging, especially if you don't have organized storage to keep them. The solution? Just get the kitchen sink sponge caddy, and use it to organize those cleaning items.
Combats Bacterial Growth
Bacteria multiply rapidly on damp surfaces. If not dried promptly after use, a wet sponge can serve as a good breeding site for various dangerous bacteria types. Using such sponges can contaminate your dishes, thereby placing your family at risk of acquiring harmful conditions.
Types of Kitchen Sponge Holders
Alright, let's get down to the nitty-gritty of sponge holders. There's more to them than meets the eye, and the type you choose can make a world of difference. Let's break it down:
1. Wall-Mounted Holders
These are like the rock climbers of the sponge holder world, clinging to your kitchen walls. They save precious counter space and give your kitchen a modern, clutter-free look.
No need to break out the toolbox; most wall-mounted holders are a breeze to install. Just find a spot, screw it in, and voilà!
2. Countertop Holders
From sleek stainless steel to colorful plastic, countertop holders come in various styles. They sit pretty right next to your sink, always ready for action.
Convenient? Absolutely. Stylish? You bet. The only downside might be taking up a bit of your precious counter space. But hey, it's a small price to pay for an organized kitchen.
3. Over-the-Sink Holders
If you're working with a cozy kitchen, an over-the-sink holder is like hitting the jackpot. It hangs over your sink, utilizing that often-neglected vertical space.
Perfect for apartments or kitchens with smaller counter areas, these holders are the acrobats of the kitchen accessory world.
Hanging vs. Countertop Kitchen Sponge Holders: Which is the best?
Hanging sink caddies come with suction cups, an adhesive base, hooks, or screws to help you install your unit on the walls around your sink.
These types of sink caddies save your counter space, and they help you keep your sponges close by. You won't misplace them, and they will not slide off your smooth counter while you are cleaning your dishes.
Countertop kitchen sponge holders don't need any form of installation. You just find a place to position them on your counter. When not in use, you can keep them in your cabinet or display them on your wall-mounted kitchen shelves. But, they might not be ideal if the countertop area behind your sink is jammed by other kitchen appliances.
What's the Price for the Sponge Holder?
While the price of sink caddies varies from one brand to another, you can get it from $5 to even $50 (Check the latest price here). So, the budget shouldn't be a big issue when looking for the best sponge caddy.
While you might want to save some dollars, we suggest that you avoid overly cheap sink caddies at all costs. Such units are likely to have cheap construction and a small capacity. Chances are, they will disappoint you after a few days of use.
Maintenance and Cleaning Tips
To ensure the longevity of your sponge holder:
Choose holders with proper drainage and ventilation to keep your sponge dry between uses.
Establish a routine for cleaning your sponge holder, either by hand or in the dishwasher.
Regularly inspect your holder for signs of wear and tear, and address any issues promptly to extend its lifespan.
Final Thought
Whether you're going for a space-saving wall mount, a stylish countertop addition, or even trying your hand at a bit of DIY magic, let your sponge holder be a reflection of your kitchen personality.
Here's to a cleaner, more organized kitchen.
Keep your sponges dry, organized, and germ-free – cheers to the sponge holder!
This is Kristina, a passionate content writer, copywriter, and bookworm. Always dedicated to providing informative and accurate product reviews and info articles for enjoyable shopping. In her free time, she loves spending time in nature and with animals and doing yoga.