Are you tired of fumbling through your kitchen cabinets searching for that perfect coffee pod in the morning rush?
If you're a coffee enthusiast like me, you understand the struggle. That's where the unsung hero, the coffee pod holder, steps in.
A coffee Pod holder is an essential appliance for coffee connoisseurs. It helps you organize the coffee pods neatly.
Join me on an exploration into the world of coffee pod holders and discover how these can transform your daily caffeine ritual.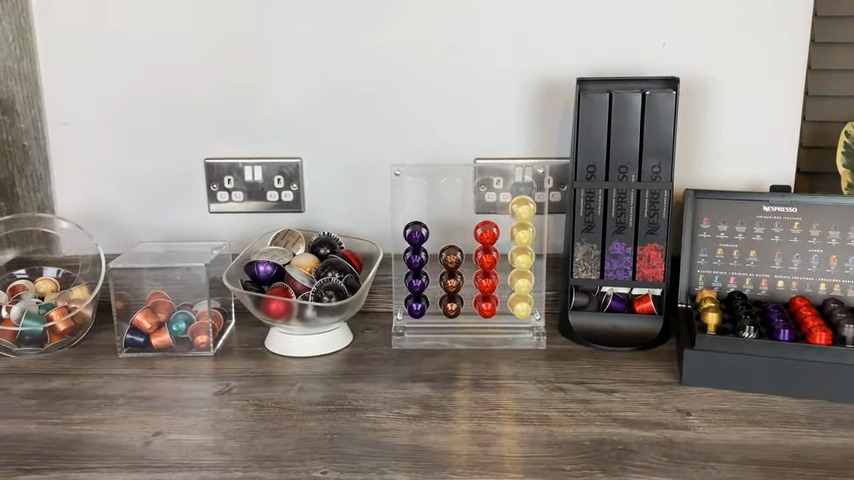 Coffee Pod Holder: What Is It Constructed From?
Manufacturers use various materials to fabricate coffee Pod holders. For instance, some use metal, and others use plastic. Some manufacturers use tempered glass to make stylish coffee Pod holders.
If you want a highly durable coffee Pod organizer, look around for one designed from stainless steel or any other metal. Metallic coffee Pod holders can withstand the wear occasioning heavy use for a reasonable period.
Plastic coffee Pod holders tend to cost less than their metallic counterparts. Though inexpensive, the plastic coffee organizers can serve you for an extended period, provided that you don't subject them to massive abuse. 
Tempered glass coffee Pod holders have superb strength and first-rate resistance to corrosion and scratches. Moreover, tempered glass coffee Pod holders have a sleek appearance that will give your kitchen a modern makeover.
What Is The Best Type Of Coffee Pod Holder?
The kitchenware market has three major types of coffee Pod holders- a tower stand rack, a drawer holder, and a side mount holder. Each type comes with its unique set of merits and demerits.
Tower Stand Coffee Pod Organizers.
Tower stand racks are designed to help you organize and display your coffee pods in a stylish way. Most have a sturdy construction and a solid base to keep the unit stable.
Their base rotates 360 degrees to help you access each coffee pod on the unit conveniently. However, they take up more counter space than the drawer style and side mount Pod holders.
Drawer Coffee Pod Holders
Drawer holders have a sliding drawer to keep your coffee pods organized. The drawer closes and opens effortlessly to let you organize or access your coffee Pods with ease.
You can tuck the drawer holders in your cabinet or cupboard, or you can keep them on your kitchen counter.
Side Mount Coffee Pod Holders
If your kitchen counter or cabinet is already full, a side mount holder would be your most suitable deal.
You can mount it to your coffee brewer's side or at any other convenient place in your kitchen. However, they can hold a few coffee pods at a time.
How Much Does The Keurig Coffee Pod Holder Cost?
Keurig Pod holders aren't costly. You can get a good one for as little as $12. However, since the market is littered with many low-quality coffee Pod holders, we propose that you steer clear from overly cheap holders since they might be of substandard quality.
The price of coffee Pod holders tends to differ depending on the coffee Pod holder's construction material, capacity, and design. So, you are likely to spend more if you want a high-capacity, durable coffee Pod holder with a functional design.
So, before you buy, make sure that its construction is durable, and it has a reasonable capacity. Remember to check out reviews from customers who have already purchased and used the coffee Pod you are eyeing. Purchase those units with an excellent rating.
Does a Coffee Pod Holder's Size Matter?
A coffee Pod holder's size dictates the amount of storage space you need to keep your coffee Pod holder.
If you have minimal storage space go for small-sized coffee Pod holders, which you can keep in your cabinet or attach on your coffee brewer's sides, and if space isn't a problem, go for a large-size drawer holder or tower stand rack.
So before you buy, confirm that the coffee Pod holder will fit in the space available on your counter, shelf, cabinet, or any other place.
Does a Coffee Pod Holder's Capacity Matter?
A Pod holder's capacity is another significant aspect to consider when looking for a coffee Pod holder.
If you are a devoted coffee lover who regularly takes a drink, go for a large-capacity coffee Pod holder that can hold 40 pods at a time. But, if you take coffee occasionally, a small-capacity coffee Pod holder will suffice.
Is Appearance Important When Looking For The Nespresso Pod Holder?
Just like any other kitchen appliance, pod holders are available in a variety of finishes and designs. Some have a timeless vintage design, and others have modern, luxurious, glossy finishes.
Therefore, before you place your order, make sure that the coffee Pod organizer you are eyeing design is attractive enough to let you display it on your counter without issue. Also, its finish should blend seamlessly with your kitchen's interior décor.
Benefits of Using a Coffee Pod Holder
Space-Saving Marvel:
Ever wish your kitchen could magically declutter itself? Well, a coffee pod holder won't do the dishes, but it works wonders for clearing up that chaotic coffee pod corner.
Imagine a tidy space where each pod has its own designated spot – no more morning pod pile-ups.
Quick and Easy Access:
Say goodbye to the annoying morning search for your favorite coffee pod. With a holder in the mix, your chosen brew is practically waving at you.
Grab it with the ease of a seasoned barista, and kickstart your coffee ritual without the unnecessary morning hunt.
Enhancing Kitchen Aesthetics:
Let's talk kitchen vibes. A coffee pod holder isn't just a functional accessory; it's a style statement for your caffeine haven.
Spruce up your coffee station, turning it from 'meh' to 'wow.'
Preventing Pod Damage and Waste:
Remember the fallen soldiers – those crushed and forgotten pods that met a tragic fate at the back of your cabinet?
A coffee pod holder steps in as the unsung hero, cradling your precious pods and shielding them from potential damage. No more waste, just organized coffee bliss.
How to Properly Maintain and Clean a Coffee Pod Holder
A happy coffee pod holder leads to even happier coffee moments. Keep it clean, cherish the memories, and brew on! To properly maintain and clean a coffee pod holder, follow these steps:
Regular Cleaning Routine
Picture this – your coffee pod holder as Cinderella, and the broom as your weekly cleaning routine.
Set a date with your holder once a week, and you'll notice the enchantment unfold.
Tips for Removing Coffee Residue
For those stubborn coffee residue spots, it's time for a spa day. Treat your holder's removable parts to a warm, soapy soak.
It's like a bubble bath for your coffee companion – refreshing and ready for another round of brewing.
Ensuring Longevity and Hygiene
Think of a coffee pod holder as a long-term relationship; the more effort you put in, the longer it lasts.
Regular maintenance isn't just about cleanliness; it's about nurturing a bond that stands the test of time.
Final Thought
In the world of coffee aficionados, the coffee pod holder is a silent hero, bringing order and convenience to our cherished daily ritual.
As you embark on the quest for your ideal holder, consider your space, style, and, most importantly, your love for that perfect cup of coffee.
It is time to organize your coffee Pod holders in style. Let the journey begin!
This is Kristina, a passionate content writer, copywriter, and bookworm. Always dedicated to providing informative and accurate product reviews and info articles for enjoyable shopping. In her free time, she loves spending time in nature and with animals and doing yoga.